We built a minivan camper that slides into 2016 Toyota Sienna to give us more flexibility for long-weekend trips and long-distance bike touring. Our custom design features a small kitchen and refrigerator, a portable power station with a solar panel, and a couch that converts into a full-size bed. Watch our first-stage build YouTube video from January 2021:
Design
We designed our camper for our 2016 Toyota Sienna LE, but it should work with any 3rd-generation Sienna from model years 2011-2020. Download our Sketchup design file and open it with a free personal Sketchup web account. We are freely sharing our design as-is, with no warranty, so use at your own risk. We encourage you to improve on our design and freely share your ideas with others.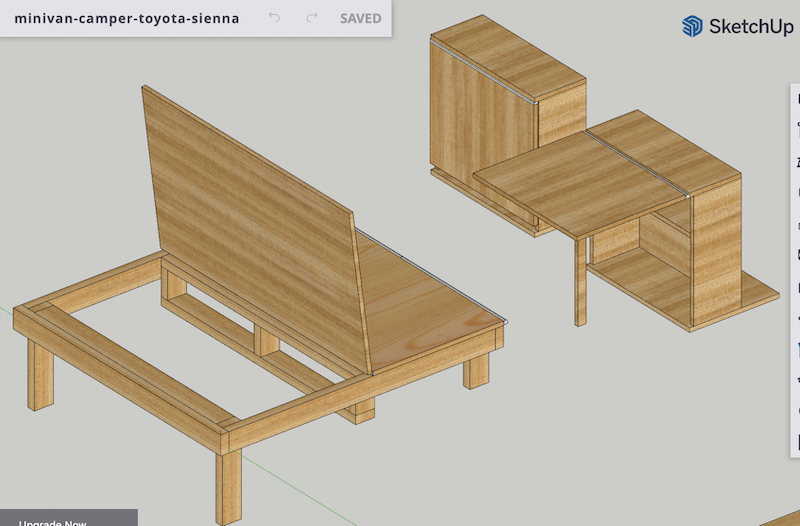 Thanks to all who freely share their creative designs for minivan campers. Our thinking has been most influenced by these creators:
See also Professor Hobo, YouTube channel on off-grid mobile power stations, solar panels, and refrigerators for vehicles
Budget
Current list of items purchased for our build. We include links to provide more information. But we encourage you to buy locally whenever feasible, and we do not receive any promotional fees from Amazon or other companies.
Why?
Why build a minivan camper? Why not other options? Your situation may be very different, but here's how we defined our needs and decided on our best options.
As my partner Beth and I enter our mid-50s and our kids have grown up, we want more flexibility to take long-weekend trips together, and occasional one-week solo bike tours for me, in the spring-summer-fall months. During the pandemic, we discovered that even when states allowed visitors, it has become more difficult to reserve campsites, and too expensive to pay for short-term AirBnB-style rentals when we want to spend most of our time outdoors. Also, while I love self-supported bike touring, it's not the best way for Beth and me to spend time together. Even on my solo bike tours, the pandemic has made it more challenging to transport me (and my bike and gear) to the starting point, unless I start the entire trip from home, which limits my available time.
Also, we recently gave away our aging 1998 Honda Odyssey minivan (which lasted over 20 years and over 200,000 miles), and our other vehicle is a 2010 Toyota Prius (with over 230,000 miles). While we're experts at packing lots of stuff into a Prius (a Boston cop personally complimented me on this when we dropped Maya off at college), the laws of physics have some limitations.
So we considered different vehicle options, but realized each had drawbacks for our current situation (which may differ from yours):
Teardrop trailers work well for many people. One of my sisters loves her nuCamp TAB, and another friend built their own teardrop trailer. But it didn't fit well with our family for several reasons.

We didn't own a vehicle that could reliably tow a trailer. Although you can attach a hitch to a Prius and probably tow a light trailer, Toyota does not recommend towing in the US, yet this differs in Europe. So buying a teardrop trailer also meant buying another vehicle to tow it safely.
Trailers are harder to back-up in a campsite, or to park in a city. We're just as likely to explore both types of places.
No good place to store a trailer. We have a small 1940's two-car garage that barely fits our Prius and a minivan, and no other space to store a trailer when not in use, especially during the winter.
Less-expensive teardrop trailers place the kitchen galley under a back hatch, which requires you to go outside to prep food. We wanted indoor access to our food, especially during crappy weather.

Larger step vans and cargo vans work well for many people, especially those who embrace full-time #vanlife. Check out the gorgeous photos of converted Sprinter vans and similar vehicle on Instagram. But this option didn't work well for us.

Larger van conversions can be very expensive, with poor gas mileage.
We could not park a larger van inside our garage, which has a maximum height of 80 inches, and max length of 220 inches.
Even if we bought a smaller cargo van that fit inside our garage (such as a Ford Transit Connect, Nissan NV200, or Mercedes-Benz Metris), it would not include passenger seats, which meant we could not transport more than two people, a problem since our older kids visit us when possible and our college-age daughter Maya still lives with us for some months of the year.
Cargo vans often lack side windows, meaning you can't see outside, which kind of defeats the whole point of traveling, in our view.
So that's how our decision-making process came back to a minivan camper. We bought a 2016 Toyota Sienna to replace our 1998 Honda Odyssey. On YouTube we saw several creative conversions of Siennas, which made excellent use of its relatively flat floor and spacious interior. Our 2016 Sienna LE is rated at 25 miles per gallon on the highway (and in practice we experience about 27 mpg). While that's only half of the 50 highway mpg we get from our 2010 Prius, it's not bad when compared to other minivans of its era. Although Toyota introduced its new hybrid Sienna minivan in 2021 with 36 highway mpg, our understanding is that the middle-row seats are not removable, and it's an expensive brand-new vehicle, so that's why we converted the more affordable 2016 Sienna.
To be clear, we are not a tall family (I'm only 5' 6"), so we fit better inside smaller spaces. Initially, that was another reason why we leaned toward the minivan camper. But during our design phase, we intentionally tested it on taller people, such as a certain boyfriend who is 6'4", and found that it still worked. So while a larger van makes sense if you're really tall and spend lots of time inside of it, preferably standing up, consider whether a minivan camper still works for long-weekend trips where you plan to spend most of your time outdoors in spring-summer-fall.
Ventilation
Our next project is to add ventilation, and we're just beginning to research different approaches.
Suggestions welcome!