Southern Florida loop 2016-17
Follow my bike tour around Southern Florida from Dec 30th, 2016 to Jan 3rd, 2017. Explore the full-screen map and photo album, and my daily journal entries further below.
Day 1, Dec 30th: Fort Myers Beach to Ochopee, Florida, 71.5 miles
When stopping to visit my friend David in Naples, Florida, he asked, "What do you think about when you're biking?" One answer that came out is "nothing very interesting, which is why I like it so much." When I'm bike touring along unfamiliar roads, even somewhat boring ones, my mind is so tuned to the little things, that there's little room for larger ideas to creep inside. To me, it feels like there's so much visual and aural stimulation when bike touring that my brain gets filled up simply by processing it while attempting to pedal in a straight line. For most of yesterday's ride, my mental capacity was consumed by lots of little things: Is that a nail down the roadway in front of me? (Nope, that's a millipede). How far back is that car coming up behind me? What kind of bird is that to the side? Have I been drinking enough water? How on earth did the 1950s "Jingle Bell Rock" song get stuck in my head, and what tune can I replace it with? Am I staying above my current average speed? How many miles until my legs insist on a short break? Is that another nail in front of me? (Nope, just a random piece of hardware) and so on. Not a lot of deep thinking there, until I rest for the night, the scenery stops changing, and my thoughts catch up with me.
Looking back on yesterday's travels, here's a few reflections to share: So far, although my route has taken me along various Florida highways, I've been pleasantly surprised by the frequency of dedicated bike lanes or sufficiently wide shoulders for bike travel, in most (but not all) places. The Tamiami Trail (route 41) even had a few miles of new off-highway bike trail near Collier-Seminole State Park. Also, my overnight at the Trail Lakes Campground in Ochopee, FL turned out to be a wonderful tent campsite on the grass by a pond, with picnic table and fire pit, and a short walk to a very clean bathroom with a hot shower, for $25, which is the best deal I've seen around here. (My friends like Tony probably would prefer "stealth camping" but that didn't seem like an option out here in the Everglades, and besides, I prefer a good toilet seat and other people around me.) Last night I met up with Rebel and his dog, Rosco, who built a large bonfire near my campsite, which I definitely appreciated on a chilly Florida night. They travel around building fires for events, and there's a music festival/drum circle at the camp grounds on New Year's Eve. I won't be here, but saw the bonfire preview.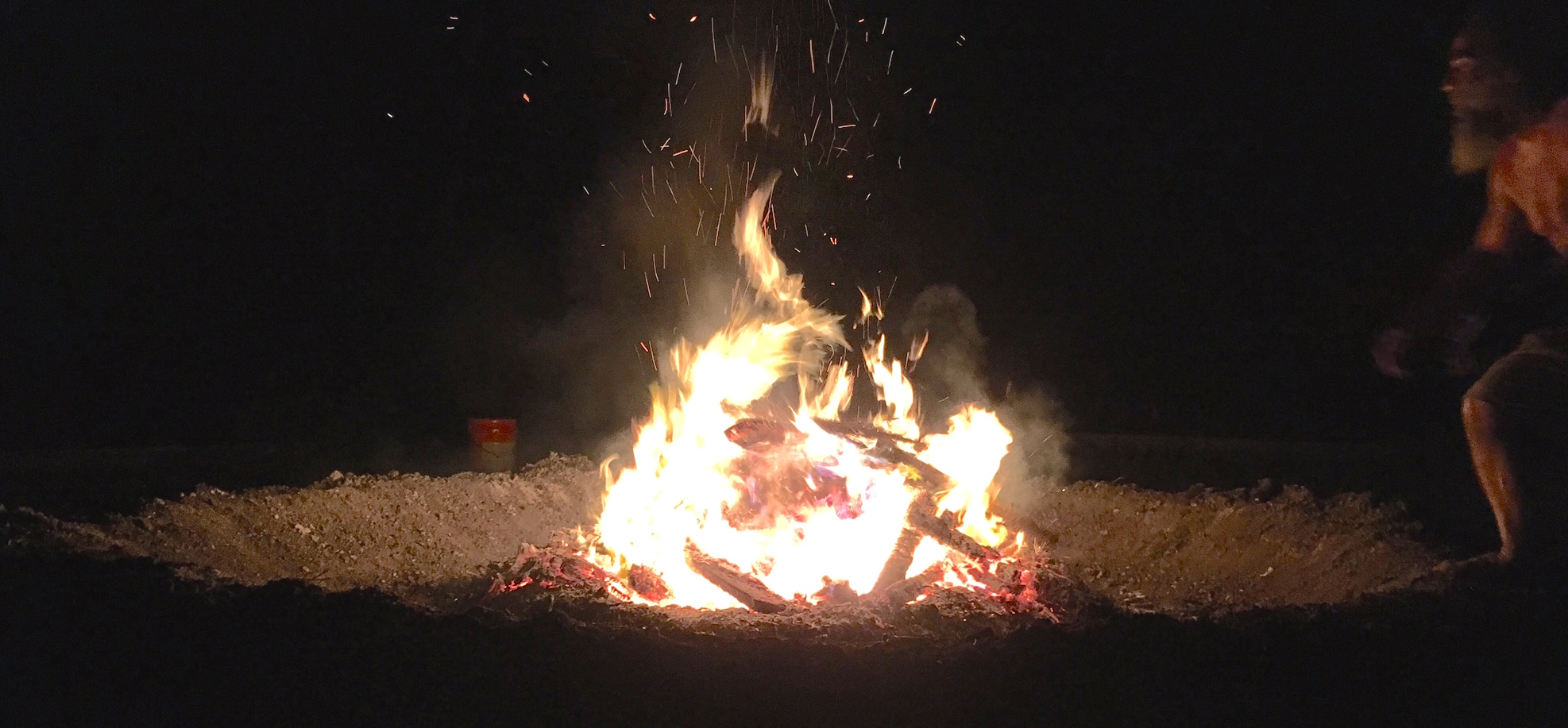 Day 2, Dec 31st: Ochopee to Florida City, 77.5 miles
The last day of the year probably was the longest (and hardest) of this tour. Woke up refreshed at the campsite, though a bit chilly (47 degrees) for Florida, so gobbled down oatmeal and hot cocoa to warm up. Hopped aboard the bike and discovered a loud creaky sound in my left pedal, which accompanied me for the entire day, despite my best mechanical efforts (i.e. removing the pedal and banging it on the ground in a futile attempt to dislodge what I presume is a broken bearing). Lots and lots of birds in the Everglades, but my creaky pedal scared them away before I could get close. I knew that this long stretch of the Tamiami Trail had very few places to stop, so I prepared with three cold water bottles. But I didn't realize how pedaling into a steady eastern wind would slow me down. Despite the flat terrain, my fully-loaded bike and I averaged only 10.5 miles per hour, compared to nearly 14.5 miles per hour the previous day, when I had fresh legs and a strong northern wind at my back.
One enjoyable stop about mid-way through the day was Shark Valley National Park, where my father brought me and my family years ago to go bird watching (and where he spotted former Attorney General Janet Reno). I paid the $8 entrance fee for the privilege of buying ice cream sandwiches for lunch, filling up my water bottles, and watching (perhaps too closely) some sleeping gators. If I had more time and energy, I would have done the 15-mile bike loop through the park, but that simply wasn't in the cards today.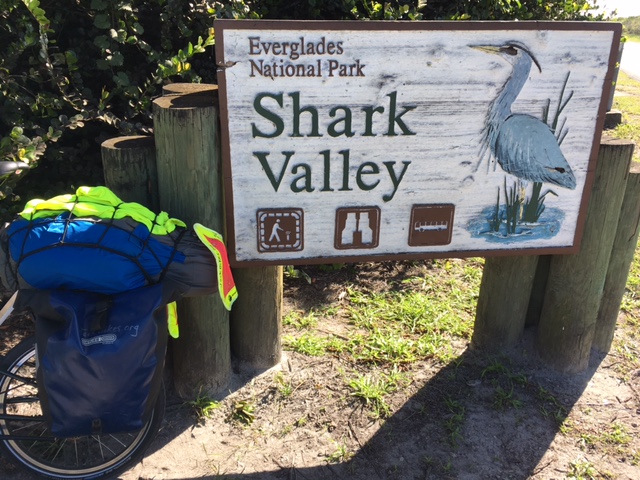 Back on the bike, the second half of my ride was harder than the first half. East of Shark Valley, the lush forest of birds empties into swampy flatlands, with few barriers to block the wind or sun. Outside of Miami, when turning south off of the Tamiami Trail, I made some poor navigational choices for the last 20 miles into Florida City, though it's still not clear to me if any good choices were available. Google Maps suggested a route that was clearly a mountain-bike dirt path, so I skipped that choice and tried my luck on Krome Avenue, figuring that I'd find a highway with a rideable shoulder. Big mistake. A length construction project funneled all traffic into a narrowly-divided two lane road, with orange barrels from Bob's Barricades blocking the shoulder. So I pedaled down the still-under-construction highway that paralleled traffic, which sometimes meant new pavement but more often meant dirt path. After what felt like 8 miles with no intersection, I finally reconnected with a network of side roads that took me though a large agricultural district, though paved streets suddenly disappeared and turned into dirt paths, with "no dumping" signs that were clearly ignored. No photos here of the German Shepherd dog that chased me, nor the wild peacocks that dazzled me, because I was tired and the sky was growing dark. Finally, my weary legs and empty water bottles and I arrived at the welcoming Everglades Hostel in Florida City. If anyone knows a better way to bike here from Tamiami Trail, let me know.
Day 3: January 1st, rest day at Everglades Hostel, Florida City
A delightful little oasis in the midst of Florida superhighways and strip malls. I made a batch of pancakes on the communal griddle, walked to the Walmart to buy a new pedal (the only nearby store selling bike parts on New Year's Day), and wrote up sections of Data Visualization for All while sitting in a peaceful garden. Loaded up on carbs during dinner at Rosita's Mexican Restaurant. Batteries recharged, and ready to start riding to the Keys early tomorrow morning.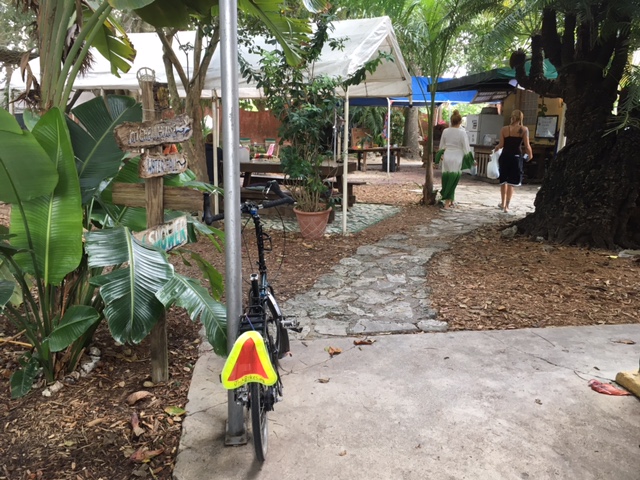 Day 4: January 2nd, Florida City to northern Marathon, FL, 69 miles
When bike touring is good, it's really good. Today turned into one of those memorable days, but it didn't start out that way. I woke up early to start pedaling along a desolate stretch of US 1, from Florida City to Key Largo, which was safe, though boring. Yet the creaky sound in my bike mysteriously returned. Apparently the Walmart pedal was not the solution. Fortunately, the New Year's holiday had ended, and I found an open bike shop, All Keys Cycles in Key Largo. The bike mechanics quickly helped me out by tightening the bottom bracket and crank, which I couldn't do with my limited travel tools. They also sold me a cold container of orange juice, exactly what my taste buds were craving this morning. This fixed my problems, at least temporarily, and Key Largo also provided off-highway bike paths with partial shade.
Further down the road I met up with Eli and Henry, two bike tourists from Tallahassee, and we rode together for the rest of the day. These two young men are experienced cyclists, who have previously made this journey to Key West, and are very knowledgeable about the local habitat. Also, they ride each day to deliver food for competing sandwich shops, and they're very active in non-profit community bicycle organizations in Tallahassee, similar to BiCiCo in Hartford. So we found that we had lots to talk about while riding together and taking breaks along the way. Eli also pointed out a pivot bolt near my crank that might be the true cause of the creak problem (which I've tightened and will test tomorrow). But best of all, my bike and I were able to keep up a relatively fast pace with these young whippersnappers. That makes me feel young again, perhaps the real reason why I love riding my bike.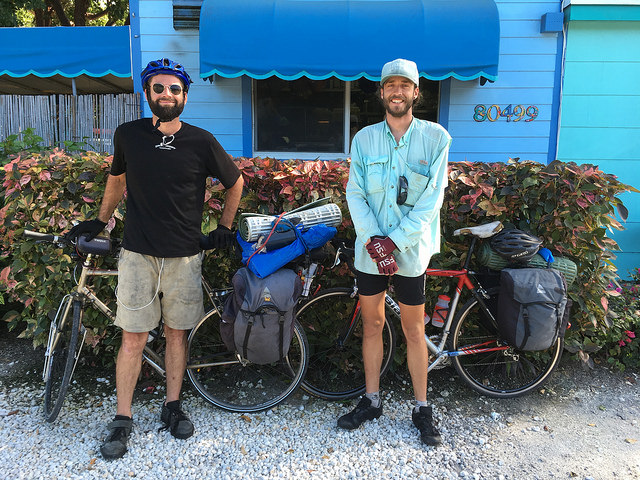 While planning this bike tour of the Keys, I read that much of my journey would take place alongside US 1, a busy highway overrun with RVs and SUVs. So I kept my expectations low. But what I didn't realize until biking here is the absolute beauty of the scenery when you look away from the cars. The best views are from the bridges: either a dedicated bike lane (that's closer to the water than the cars), or separate bike-pedestrian bridge (where you can stop anywhere, or see what those who are fishing have caught). To the left is the Atlantic Ocean, and to the right is Florida Bay. On a sunny day like today, the shallow waters create shades of blue unlike any body of water I've ever seen.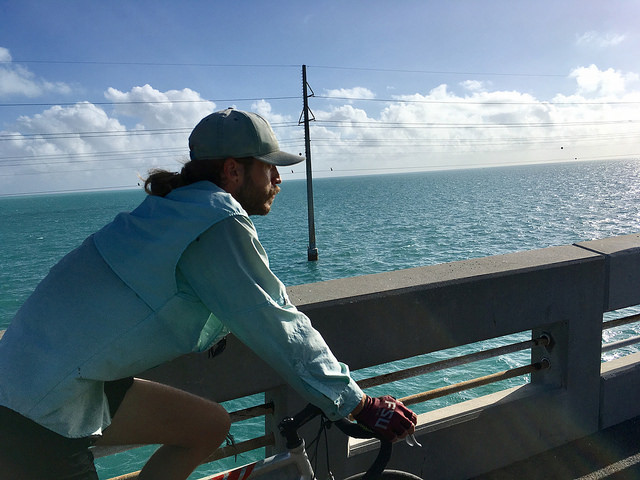 Tonight I'm camping in my tent on a small "island" on the Florida Bay in Marathon, operated by an RV park. (Yes, it's the only place within several miles where I could make a tent site reservation a month ago. Henry and Eli are trying their luck further down the road, and we'll compare notes tomorrow night in Key West). There's a warm breeze gently blowing across the picnic table as I write this before going to bed. My belly is full from eating an entire 14-inch spinach and tomato pizza (my only real meal today) at a diner down the road. They served me root beer in a mason jar, the kind that young hipsters drink from. The weather forecast for the Keys tomorrow is the same as today: sunny skies, with a low in the mid-70s, high in the low-80s. Sure beats the gray skies and icy rain back home in Connecticut. This is one of those bike touring days to live for.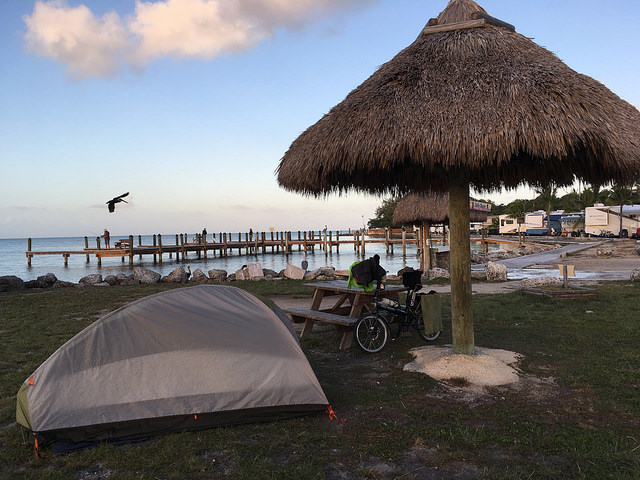 Day 5: January 3rd, northern Marathon to Key West, FL, 59 miles
My last day on the tour took me across the Seven Mile Bridge (named for its length, not height!), several smaller bridges with less memorable names, and some long stretches of delightfully shaded off-highway bike trails, especially during the last 15 miles into Key West. After enjoying a delicious shrimp dinner on Duval Street, and changing out of my sweaty clothes, I completed my Southern Florida loop by taking the 6pm boat back to Fort Myers Beach (and paying an extra $20 to roll on my bike and gear).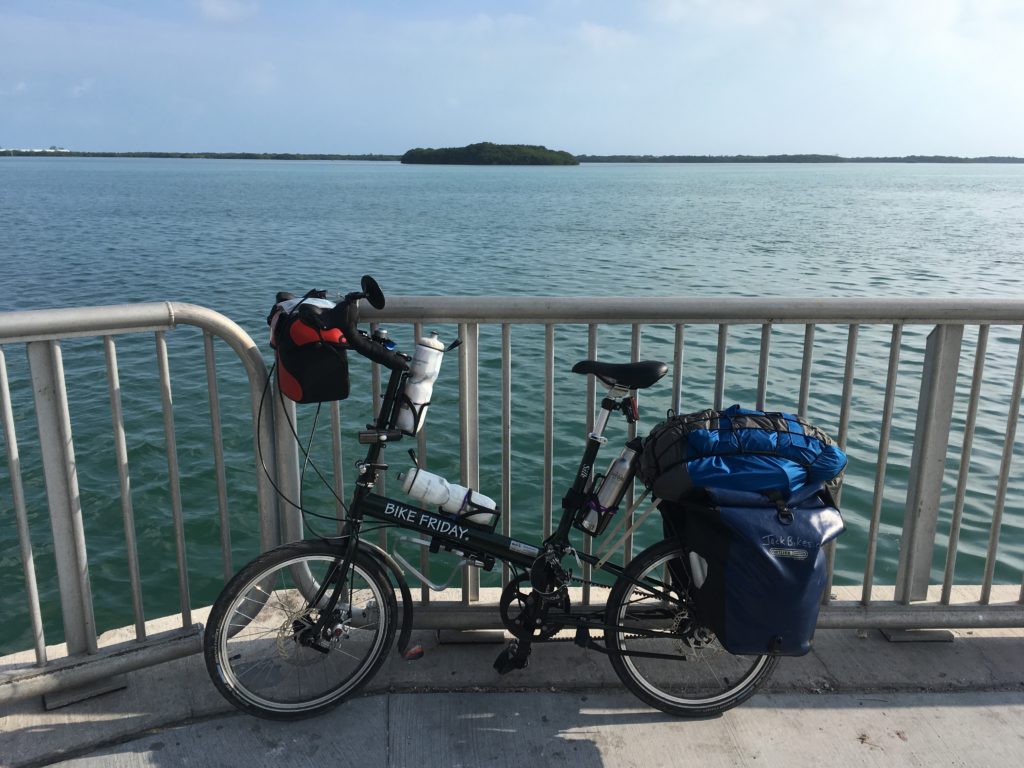 But overall, the Florida Keys Overseas Heritage Trail is still a disconnected mix that remains "under development." Too often, the dedicated bike lane or bike path abruptly ended, and I was confused about whether to continue pedaling south to wait for a dedicated bike lane or off-road bike path to pop up again, or cross traffic on US 1 to look for a bike path on the other side of the highway. At one point, when a bike path on the southern (ocean side) of US 1 suddenly stopped, I looked down and saw unofficially painted instructions to continue riding in the northbound bike lane—against traffic—to reach the next section of off-road bike path. Personally, I felt safe while biking the Keys (which in reality means biking mostly along US 1) because riding alongside high-speed traffic doesn't bother me as long as the shoulders are relatively wide. But I don't yet recommend this route to cyclists looking for a tranquil ride. Bonnie Gross accurately described the Heritage Trail as having "safe and scenic sections" in her detailed Florida Rambler blog post, last updated in December 2016. Based on what I've read, Florida is slowly improving its Heritage Trail, and with clearer connections, the disparate pieces could be transformed into a wonderful experience for all riders in future years.