Lessons Learned from Pedal to the Medal 2018
Congratulations to Chion Wolf and the Hartford Marathon Foundation for raising the necessary funds and organizing the first official Pedal to the Medal event in the wee hours of Saturday, October 13th, 2018. This experience taught me several lessons, and the most important is: Never underestimate Chion Wolf. Despite people like me who suggested she was crazy to attempt this goal, Chion raised $20,000 in sponsorships during one month, which was necessary in order to pay expenses to support the event. Moreover, 240 equally crazy people registered and paid $55 each to participate in this sold-out fundraising event, with a portion of the proceeds to benefit BiCiCo, Hartford's community bike shop. Starting at the ridiculously early, dark, and cold hour of 3:30am, cyclists gathered at the State Capitol (many adorned in costumes and bright lights) and joined for a group ride (not a race) along the 26-mile Hartford Marathon route, in order to finish by 6:30am and clear the path for the runners later that morning. Despite my negative predictions, the event was a wildly popular success. Let the record show that I was wrong, and Chion was right.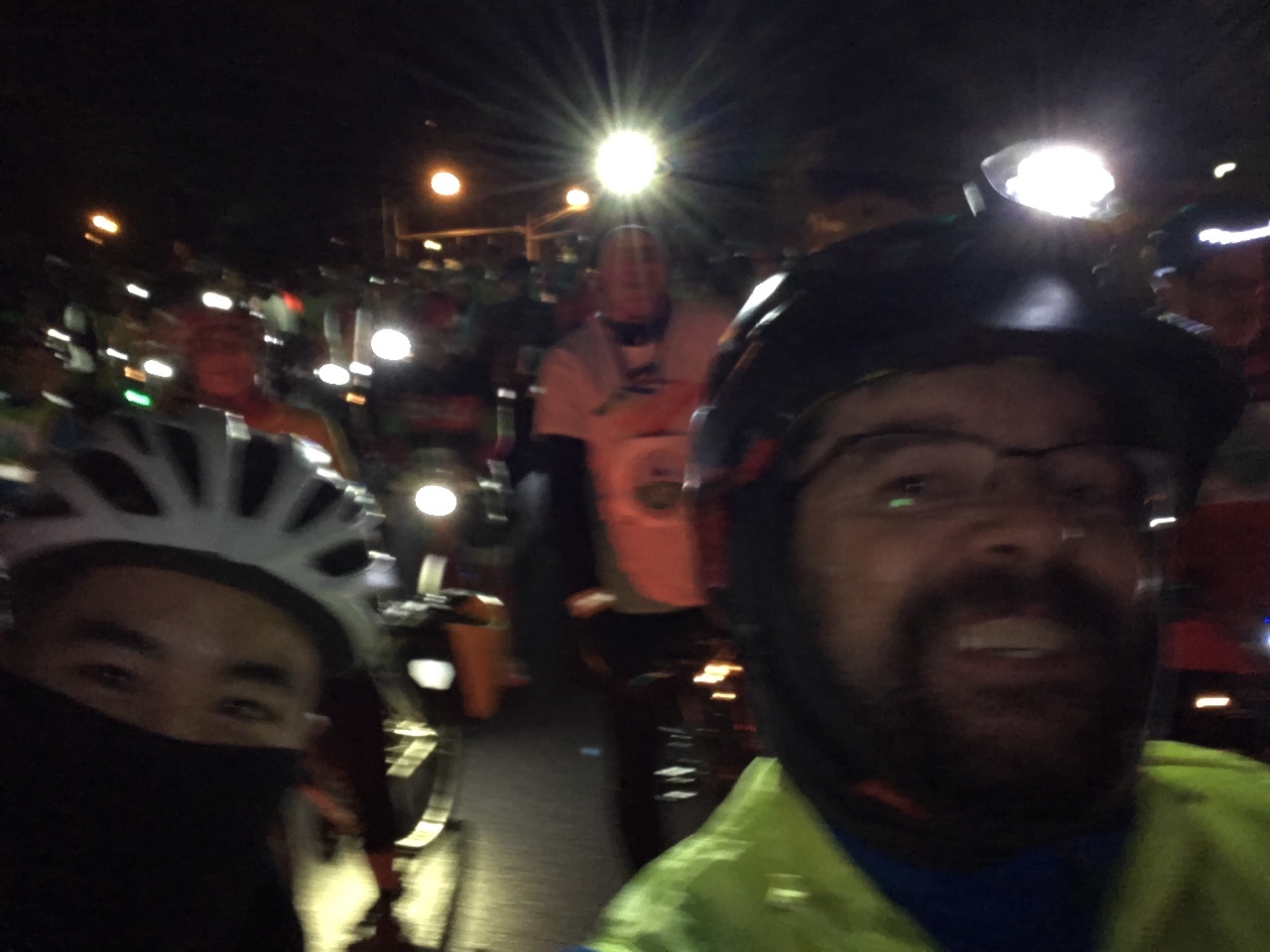 With my tail between my legs, I signed up to volunteer for Pedal to the Medal. On the online form, I checked the box to serve as cyclist support, which I assumed would place me in the middle or back of the pack. But to my surprise, the Hartford Marathon staff emailed me and another rider to co-lead the 240 cyclists, behind some type of lead vehicle. The organizers envisioned all of us riding together in a well-defined capsule, with everyone between the lead cyclists (instructed to ride no faster than 10 miles per hour) and the tail (riding no slower than 9 miles per hour). Since roads were not officially closed, the capsule concept would allow a handful of police cars to move ahead and block intersections as we biked through them.
Since it wasn't clear exactly how all of this would work, I studied the official cue sheet of turn-by-turn directions (which differed in two significant ways from the runners' route) and transformed it into a digital map that would be visible in the dark on the screen of my bike-mounted smartphone. That turned out to be one of my wiser decisions. What follows below are lessons learned from my experience at the front of the pack (or near the front, as it actually turned out), and recommendations for a smoother ride next year.
Lesson 1: Introduce the lead cyclists and lead vehicle driver before the start, because we need to work together. When we lined up for our 3:30am launch, I was pleased to see a motorcycle cop waiting about 100 feet ahead of us. Looking back, I wish that we had talked for even a minute or two before the start, because I quickly discovered the challenge of having a conversation en route, in the dark, above the noise of the motorcycle engine. The motorcycle cop could not easily see which of the many cyclists behind him were supposed to be setting the 10 mph pace, which is a relatively slow speed. So as individual cyclists moved ahead and went a bit faster, especially on the downhills, the cop sped up to 11 or 12 mph to stay ahead of the pack in his rear-view mirror. At one point, the motorcycle cop and cyclists pushing the front of the pack were zipping along at 15 mph, according to my speedometer. So on three occasions during the event, I sped up to the motorcycle cop, explained who I was, and very nicely asked him to slow down the pack to the official 10 mph pace.
But the motorcycle cop soon learned that talking with me also helped him, because I had the route clearly mapped out. At one point, he accidentally missed a turn along Hartford's Riverfront Path under I-91 to Van Dyke Avenue, which was understandable because it was dark and probably not a familiar route on a motorcycle. He seemed embarrassed because we had to turn all 240 riders around, on a narrow path on a hill, to get back on track. Later in the ride, when the motorcycle cop figured out who I was, he waved me up to talk with him when he needed clarification or confirmation about our exact route. A better solution would have been for the organizers to introduce us and make sure we were communicating clearly before the ride began.
Lesson 2: Create bike-friendly digital maps for more riders to follow the route. When runners do the Hartford Marathon, the roads are closed, signs are posted, and everyone can see where they're going because it's daytime and there's a few thousand people on the course. But our bike ride has different conditions: roads are open, signs are either not up or not easy to see in the dark, and it's easy for some of the 240 cyclists—spread out over a mile or more —-to take a wrong turn, because there may not be anyone immediately in front of them. The organizers sent out a cue sheet (actually 3 pages) of turn-by-turn directions, but very few people have ways to attach them to their bikes, and even if they did, most cannot easily read printed paper in the dark. In fact, during the ride I received a mobile phone call from designated cyclist Tony Cherolis, who explained that our pack was so spread out in East Hartford, and he wasn't sure which turn they were supposed to follow. When Tony is lost, you definitely have a problem. When you look at the twisty map below, which cuts through highways, side streets, and bike paths — all in the dark — you'll realize that you'd be likely to get lost, too.
Rather than relying on everyone to play "follow the leader" on a dark 26-mile ride that does not resemble the original "capsule" concept, a better solution would be to provide more cyclists with directions in a more familiar bike-friendly format: a digital GPX file. Some (but not all) cyclists use bike-mounted digital devices or smartphones to display a GPX map while they ride, and some of these units also work in the dark. Understandably, the Hartford Marathon organizers do not normally provide a GPX file on their website, because it's not something that most runners need during their race. But if more bike riders had access to a digital map — even just 5 percent of us in our stretched-out pack — then more people would have known where to turn.
Below is a smartphone-friendly version of the route that I created before our ride, with an option to download as GPX at the bottom of the screen. Next year, Pedal to the Medal would be welcome to embed this interactive map in its website, and encourage riders to access it via any smartphone web browser with this shortlink (http://bit.ly/pedal2medal, click to open in a full screen), or to download the GPX file to their bike-routing device before the event.