How General Andy Hamilton led us across the Susquehanna River
When George Washington crossed the Delaware River, his boats showed up on time. But when the East Coast Greenway Week A Year cyclists tried to cross the Susquehanna River this week, we had to improvise. Thanks to ECG Mid-Atlantic Trail Coordinator Andy Hamilton (aka General Hamilton), our group of forty-one riders arrived safely.
This particular adventure happened on the second day of our Philadelphia-to-Virginia ride. Follow along on the 2014 East Coast Greenway "One Week A Year" Tour photo & route map. We started that morning in Wilmington, where our group met Delaware Governor Jack Markell, "the most bike-friendly governor in the nation." ECG leaders and local cycling and environmental advocates organized an impressive event with the Governor at the top of the DuPont Environmental Educational Center. Delaware has already built many miles of bike trail, and we learned about concrete plans to build more. Andy (holding the map in the photo below) praised the Governor and emphasized that when he leaves office, about 60 percent of the Delaware portion of the Greenway will be converted from roads to bike trails. Geographically, Delaware is a small state. But it's proving what can be done for its neighboring states, Pennsylvania and Maryland, and helping to connect more communities from Maine to Florida.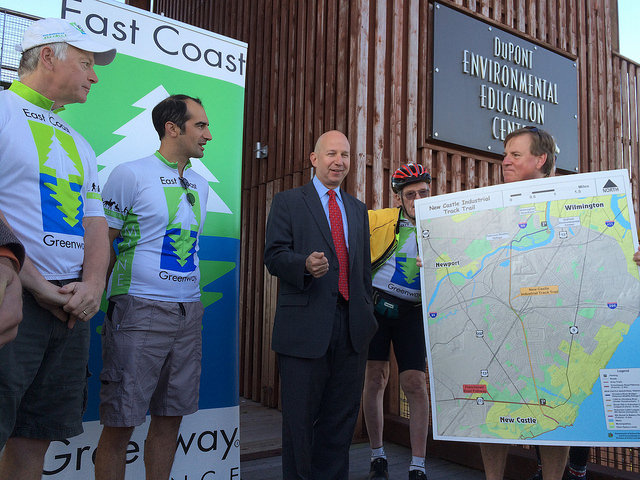 Andy is one of the many talented ECG staff members who have helped to grow this trail over the years. But as I've ridden with him these past few days, what continues to impress me is his unique blend of strategic thinking with nuts-and-bolts logistics. The Greenway is successful in part because staff members like Andy, who previously worked in landscape architecture and community development, share the broader vision and "speak DOT." Both in person and on the phone, Andy knows how to communicate effectively with department of transportation planners, engineers, and project managers at various levels of state and local government, as well as coalitions of advocates and elected officials to leverage what needs to get done. In my line of work, I meet many thinkers who have lots to say, but those who make real changes are less common. So it's delightful to spend a week with the thinkers-and-doers of the East Coast Greenway, even when things don't always go as planned.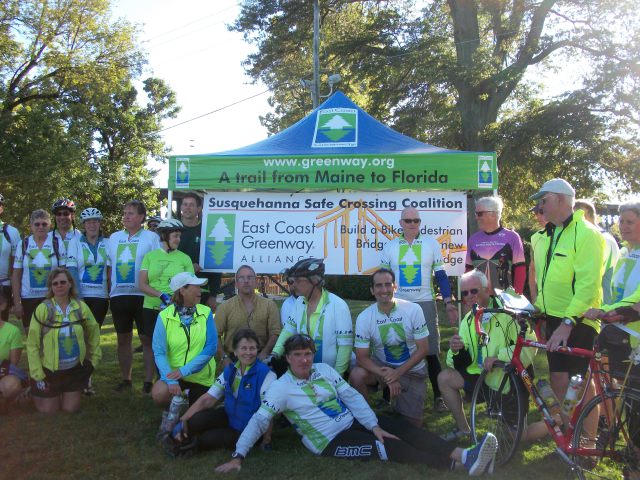 At the end of day 2, we rolled into Perryville, Maryland, along the bank of the Susquehanna River, for a "Safe Crossing Coalition" event organized by the Greenway and local partners to push for faster action on a bike-and-pedestrian bridge to Havre de Grace, Maryland. Although four bridges currently span this section of the river, they permit only automobiles or trains. The good news is that Amtrak needs to replace its existing bridge, and the Greenway and its partners are pushing to convert the old one into a bike/pedestrian bridge. Rather than hiding this severe "gap" in the Greenway, Andy and his colleagues organized this event to call attention to the problem, and hired a local boat company to ferry riders across. But the boaters bailed on us.
Rather than give up, General Andy Hamilton rallied the two-wheeled troops to pedal up the highway to a car-only bridge, where we stopped along the shoulder, with the protection of a local police patrol car. Since it was not legal or safe to bike across the bridge during rush hour—even with a police escort—we loaded bikes and riders into cars and trucks of Greenway supporters who came to the event. People driving by wondered what was happening. To communicate our message, Andy (on the right) stood along the side of the highway, and help up the banner from our rally to draw even more attention to the need for safe passage for cyclists and walkers across the Susquehanna River.