Trinity student Alex Perez on Hartford cycling
This guest post is by Alex Perez, an avid cyclist and sophomore at Trinity College.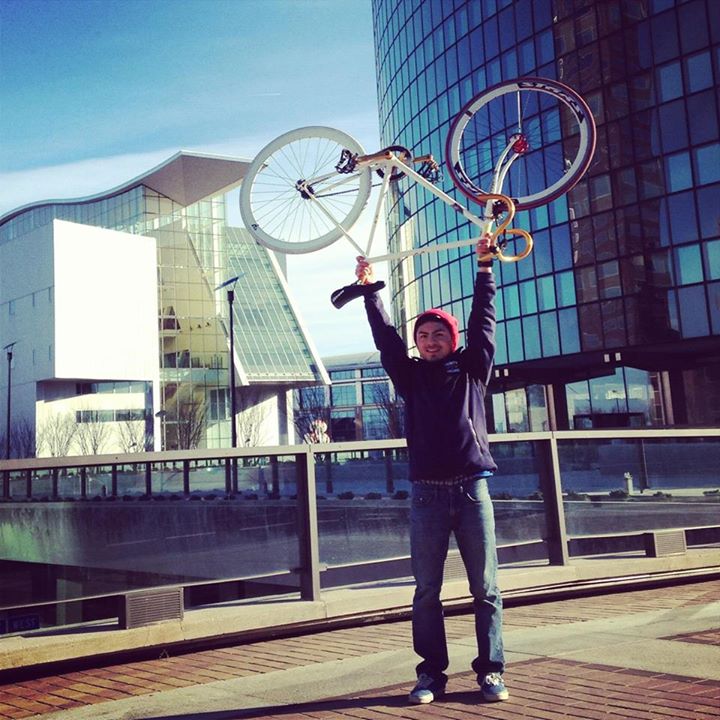 Back home in Chicago I would frequently ride my bicycle to navigate around the city. Whether it was to get to school, to work, or to just explore somewhere new, I personally always felt safe riding around Chicago. I feel like being able to ride your bicycle safely in a city allows you to connect more with your surroundings. When I arrived at Trinity, I did not know much about Hartford other than it was a small city on the east coast. I decided to bring my bicycle to campus and explore what Hartford had to offer. As I explored around the city, I saw issues with the number of bike lanes around the city, the conditions of these bike lanes, and very few people ride their bicycles. I have been working on my project to develop a bike map where the Hartford community can have open access to it. The goals are to create a bike friendlier city and promote a bigger cycling culture that can give hopefully provide connectivity all across the city and not just the downtown area. Currently, I want to connect with people who have worked on improving cycling elsewhere and receive feedback. I am reaching out for any possible suggestions in order to figure out what directions I should take next to create a greater cycling community in Hartford.
My initial reaction to Hartford after riding my bicycle around was that there was something missing. Also, at Trinity I observed that not many students stepped outside campus to explore the city. From my experiences riding around Hartford, I realized that not that many people walk around in the city either. Hartford does not have much connectivity between its neighborhoods, which is unfortunate because there is so much more the city can offer. Hartford is a historically and culturally rich city, but it lacks the transportation infrastructure to enable people to feel encouraged to visit Keney Park or Elizabeth Park, the Wadsworth Athenaeum or the Connecticut River Front. Also, one sentiment I had about riding my bicycle around Hartford was not feeling safe. As I rode my bicycle, I hardly found bike lanes, and if I did, they would only stretch for a block or two before cutting off at random. Some bike lanes faded off into the street, or were so poorly marked that they did not make cyclists feel any safer. These issues motivated me to try and repair the current bicycle situation in Hartford.
During my freshman year at Trinity, I started to develop a bike map of Hartford with Professor Cameron Douglass from the Environmental Sciences Program. We acquired GIS (Geographic Information System) data from the city of Hartford for their bike lane network, but discovered that the bike lanes currently in place are very disconnected from one another. We decided that in order to have an effective cycling route network in the city bike lanes should be connected to each other, and provide access to regional thoroughfares and existing bike paths. Our map http://arcg.is/1FfQzTl connected the bicycle lanes together, along with suggested bike routes that expanded throughout the greater Hartford region. After the map was completed, I realized my project has led to a broader initiative to lobby policy makers and community groups on these issues.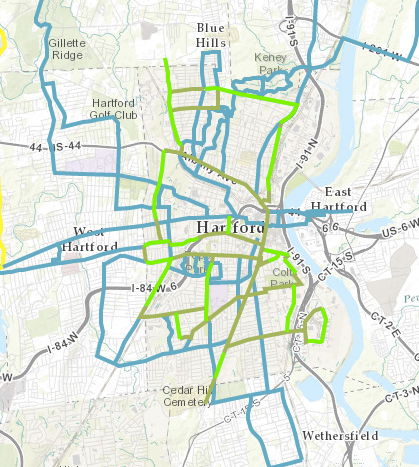 At this point in my project I want to seek different strategies organizations or professionals who have worked with improving cycling in other places and integrate those ideas to Hartford. All of it's residents agree that Hartford is in need of revitalization, and I think that my bike map and our initiative can help increase future development. This is the perfect opportunity to get my project out there as Hartford is planning to build a new baseball stadium, a new dedicated regional bus network (CTfastrak), and Governor Malloy's newly announced budget includes $100 million for transportation planning in the state. Cycling ought to be integrated with improved public transportation to get more people to be active in Hartford. People would be encouraged to ride their bicycles more often and create safer bicycle trips. Cycling has grown in other cities and I want bring that to Hartford and generate accompanying environmental, economic, and health benefits. A stronger cycling culture can bring new life to the city. Life in Hartford can benefit in the long run if my bike map becomes possible and it can bring the connectivity in between communities that it is missing.
Updated May 2015: See Alex's presentation, Cycling in the 21st Century: Developing a Bike-Friendly Community in Hartford, CT, delivered at the Hartford City Council.